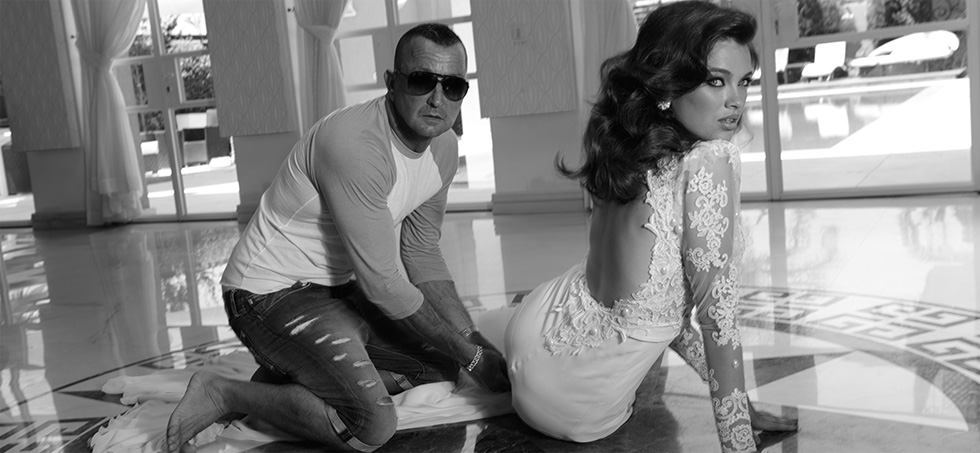 Oved Cohen – Brides & Evening Designer
Oved Cohen's fashion house (to Opera Eve) Is located at a luxurious complex, Located in HaPeled St, Holon. Spreads over 300 square meter. Designed in a unique, Classy style combines luxury comfortably and privacy for every bride. The Complex has two floors and in the center of it located a big display area where the guests can be impressed with a spectacular and unique collection that contains 300-400 evening and bride dresses (for rent) renovated every few months.
The fashion designer, Oved Cohen can be very satisfied and proud when looking back. It's been thirteen years since he opened his fashion house, and the place is thriving. It became a place visited by all kinds of Celebrities – Actors, Soccer players, Models and different Public figures.
Oved Cohen became a one of the leading and valued fashion leader in the branch!
Cohen's Collections are Rich, Colorful and modern. The models include a variety of figures, made of high quality fabrics, high finish of elite fashion and fashionable colors and fabrics (Suitable for young and slightly older women). Both in the Young and in the Classic lines you can find unique and original elements of Beads, feathers, coins, Crystals and more items. Fashion critics define Oved Cohen's bride and evening gowns collection as a real feast for the eyes! A fashion critic wrote: "Oved Cohen lives and breathes more than anyone on the turf. He keeps track on changes made in the field. In addition to his strict work on each and every one of his 'Creations', you can see his understanding about choosing the high quality fabrics and his great skill in combining the different items to the dresses".
"I'm not afraid of taking chances" says Oved Cohen. I innovate all the time- In the figures, fabrics combinations, designs and different additions. I keep on finding different ideas and directions. I have no problem matching myself to my modest and religious costumers. My biggest satisfaction is hearing from my costumer on the huge attention she got in the event. From my point of view that worth's everything!"
Unlike many other designers, that attends to take credit for their designs that other young designers did and present them as if they're theirs. Oved Cohen's is a "One man show". He's responsible for designing and manufacturing every item in his Fashion house, which explains his emotional involvement in every model. That's another reason for the personal attention he gives to his every costumer- With no differentiation of age or social status. In the scale that this fashion house works in these days it is certainly an unusual gesture. Oved Cohen explains: "This is how I believe it should be and I have no intention of stopping with this attitude in the future. I never forget that costumers come to me. They come to purchase dresses that I designed. That's why I try to please them and to make them satisfied – whether it's in the service they get, the personal attention every customer gets or fitting the dress to their personal needs and wants".
These things have a real grip in reality. A conversation with a few random costumers – women in the age range that moves between 15- 60 reveals that most of them came to his salon because of the place reputation, and by warm recommendation they received about Oved Cohen's caring, sensitive and professional attitude. A beautiful young woman from Ashdod, who's about to get married soon say: "From the moment I came here I felt like I was in good hands both professionally and humane.
Oved Cohen is defined in the field as a fashion designer and as dictates a fashion
"This is a part of the price of my success, and I learned how to live with it. The thing that bothers me most is that there are different salons, especially in the north, which deceives the brides and claims to sell my models. And I would like to say that my collection is presented only at HaPeled St, Holon". He adds and says: "At the day designers will stop copy my models I will start to feel concerned"